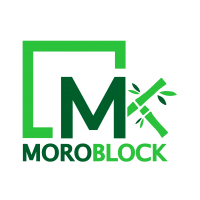 MOROBLOCK :
THE BUILDING SYSTEM
MOROBLOCK is a totally self supporting building system.
It is versatile in terms of finishings, and able to withstand severe weather events.
Cyclone testing has proven this unequivocally.
International Patent Application No. PCT/AU2017/050615
The MOROBLOCK system comprises of interlocking bamboo blocks.
The blocks are constructed from laminated, multi-layered, bamboo boards.
Base dimensions 300 x 1000 mm.
The blocks are further secured by use of connecting keys that locks them together.
The interlocking system and tie downs enable the construction to be exceptionally strong.
Please see test results from the Cyclone Testing Station, James Cook University, Townsville.
The system is easily constructed. Many conventional building methods and tools are no longer necessary.
As the walls are both internal and external, in one self-supporting system, framing is no longer necessary.
No need to core fill the blocks with concrete, enabling superior insulation properties and lessening the carbon footprint to establish a home.
The walls can be finished as per personal taste. Leave them natural looking with lacquer, or paint, wallpaper, tile, render, etc.
Bamboo is flexible and therefore moves as required. The MOROBLOCK system permits this flexibility to continue without compromising the integrity of the structure. A MOROBLOCK home will, therefore, withstand severe weather events and we are confident it will perform better than any current building products in the event of an earthquake. (We are not required to perform seismic testing, but intend to do so as soon as practically possible).
How bamboo plywood is made
Bamboo culms are selected and harvested when they are mature (4-5 years old)
The stems are split and planed to make strips
The strips are carbonized, glued together and hot-pressed in sheets
The sheets are glued and hot-pressed together in panels
There are many ways to glue strip and sheets together to obtain different plywoods for diverse applications
Bamboo plywood has high tensile strength and flexibility, is lightweight and very pliable.
Boards are cut following our precise specifications
The material is treated to last and tested to ensure the highest qualities of strength and durability